Harris 1965
HARRIS EXPEDITION 1965 Age 16½ plus.
Leader John Abbott
Officers
Alan Bateman, David Carter, Roger Dennien, Peter Peace,
Michael Underhill and Tim Willcocks.
Boys
Martin Ashton, Thomas Bragg, Peter Broad, John Brooks, David Cullingford, John Cullingford, William Davidson, Colin Haines, John Houghton, Chris Hyde, John Lace, Patrick Mossop, James Norman, Robert Pennell, John Proctor, Simon Rogers, Beekkerk van Ruth, Terry Samuel, Barry Smith, Graham Turner, Bob Warrack, Richard Wilson, David Wrigley and Nick Yates.
LEADER'S REPORT
This was the first full-sized expedition the Society has sent to the Outer Hebrides and the site chosen on the west coast of North Harris was ideal. In comparison with South Rona (in 1964) we were not so conscious of our insularity, but the site was remote, very beautiful, and offered unlimited scope for a wide variety of activities. Camp was pitched on well-drained ground above a fine expanse of sandy beach. Behind us the ground rose steeply, with some very fine climbs, to over a thousand feet, providing protection from the south and south-west. A little to the east Loch a'Ghlinne cut a deep gash in the mountains down which the south-east winds blew with disconcerting ferocity. Beyond this another steep climb led to Cearteval and Tirga Mor. Last year I said of South Rona that we still had to decide how best to organise the projects on an expedition; I think we found an answer to this on Harris. The first day was spent in establishing the camp and on the two days following every one made their own preliminary exploration of the area. Not only did this help to get us fit but it indicated possibilities for numerous projects which we could undertake. We discussed these at length and most people decided to follow one or two lines, rather than trying them all. This did not deter us from offering amateurish advice to others—the ornithologists were often disconcerted by such descriptions as "a black effort out in the bay going quack, quack, quack," (A Great Northern Diver)!
A hydrographic survey was made of Loch a'Ghlinne and a morphological map constructed to show the wealth of physical features in the area. The ornithologists made a systematic study of the Cravadale—Husinish region. Some interesting geological finds were recorded and a botanical inspection of Glen Cravadale was attempted. Several shielings were carefully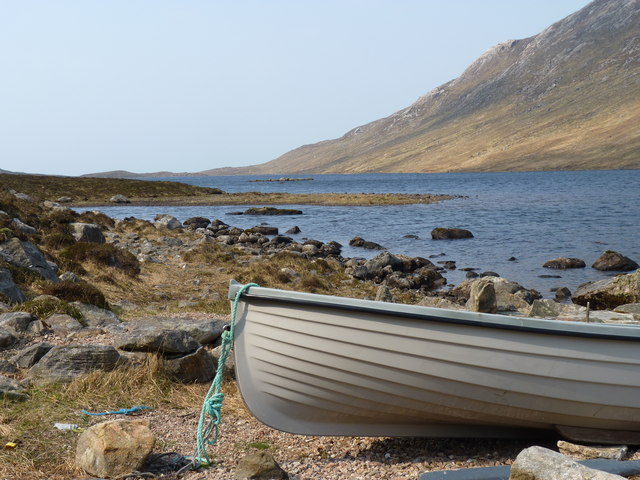 measured and excavated. A most interesting sociological study of the island of Scarp fascinated those who undertook it. Ghost hunting, complete with tape recorders and flash lights was (unfortunately) not successful. Several people spent long, happy hours stalking deer. A raft was built with which to explore the bay—did anybody mention Kon-Tiki ?—but like the Viking ships of old it voluntarily set sail one night and was never seen again. Excellent mackerel and sea trout were caught in the waters around the camp site. Although the projects were different, they were also closely related. Because they all took place in the same area we were immediately made aware of the complex inter-relation all of these studies. The geologists were able to demonstrate the essential rock structure whilst the geomorphologists sought further explanation of landforms in terms of glaciation; morainic structures and sandy outwash features are reflected in the distribution and density of plants which in turn partly determine the areas frequented by the different species of birds. In such an area the attempts by man to interfere and colonise seemed almost futile. Scattered patches of improved grassland were found in remote areas, each with its attendant shieling (very bad places to try and shelter on a wet night)!
Rowing boat at the east end of Loch a' Ghlinne

© Copyright Mike Dunn
Whilst we were able to arrive at some conclusions as a result of these finds, most of our knowledge of human activities in the area was obtained from the researches of our sociologists. I should like to thank all those who assisted this survey by answering innumerable questions, and particularly the islanders of Scarp whose help was so valuable and whose kindness, determination and sincerity so impressed us. As results show, these projects were valuable in themselves; they were also valuable to us as individuals in introducing us to subjects about which we previously knew very little. But they were not an end in themselves; they were only means to create an expedition that would be as stimulating and enjoyable as possible to those taking part. It was not just the success of the projects that made Harris such a memorable experience—it was the happy and united spirit of the expedition which inspired us all and will be something we shall never forget. This spirit found expression in many ways—something I will always remember is the events of the last evening; rarely has "Rock of Ages" been sung with so much feeling.
As the expedition ended there was much discussion about the Society itself and many suggestions were put forward for its future development. We were all conscious that Harris 1965 marks an important milestone in the history of the Society. It is good to know that so many people are determined to make the Society a success in the future.
It was a privilege we all shared to have been on such an expedition.
John Abbott
22/06/2015 E-mail from Tom Bragg.

"My wife, Anne, & I have just been on a 3-week trip to Harris & Lewis, partly so I could relive my formative 50-year-old experience with SHS at Harris '65 and also Harris '67. She spotted your website since we got back a week ago and I've been delving into it extensively!

This year we tried to get to Crabhadhail, the campsite for Harris '65, by sea Kayak from Mealasta to the north, but got stuck on Eilean Mealasta for a pleasant night due to the swell and surf – the following morning with worsening forecast (F5-7, maybe 7) we went back.. See some photos here: https://www.flickr.com/gp/tom_bragg/N9f3Hk

(Crabhadhail 8 from the end)

We also cycled towards Crabhadhail from Uig for a night out at the head of Loch Tamnabaigh.

I have vivid memories of Harris '65, my first SHS and Scottish wild-camping experience, aged 16, having been persuaded to join my friend, Dave Wrigley. In fact there must have been bad surf on the Crabhadhail beach the day we arrived, as the boatman bringing our gear from Huisinis jetty decided it was unsafe to land there and dropped it on Traigh Mheilein instead – requiring us to spend about half a day carrying it all over. But with that camping location, it was worth it!

We were proud of our camp, especially our stone "tables & benches" in the marquee, which took super-human rock moving effort.

We had a trip to Scarp: I think it's Barry Smith teeing-off our improvised golf.

We walked down the road, past Amhuinnsuidhe Castle and then north up the track under Sron Uladail with its dramatic overhang. We somehow made our way back to camp cross-country, on the way rescuing a sheep that was badly stuck in a bog!

This year we only managed a quick walk in to Crabhadhail, having driven to Huisinis. Some of the sand has been lost from the beach, but otherwise unchanged. I'd wondered if our furniture would still be there, but no!"

Crabhadhail, the campsite for Harris '65. Photo :Tom Bragg

Walking towards Amhuinnsuidhe Castle. Photo :Tom Bragg

"I think the "rock-climbing" picture above shows John Houghton, with Scarp in the background".

We had a trip to Scarp: I think it's Barry Smith teeing-off our improvised golf.

Thanks to Tom for sending me the photos and text, people are gradually finding the site and I'm slowly filling in the gaps. Tom has also contributed some background to the Dingle '66 and Harris '67 trip which will appear soon.
Crabhadail Beach

'This beach is the most beautiful I have come across, helped no doubt by its remote location'.

© Copyright Calum McRoberts

Loch Crabhadail

Looking across the loch into Glen Crabhadil.

© Copyright Tom Richardson
© Copyright Mike Dunn

Loch Crabhadail Bay North Harris.

Early Morning above Loch Crabhadail Bay North Harris

© Copyright murdoch sutherland